OUR "YES WE CAN!" COMMITMENT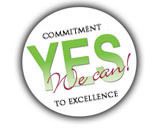 When you ask:
Can you make same-day local deliveries?

Can I get flowers delivered out of town today?

Can you create a custom basket for a new mom?

Can you deliver early in the morning or late in the day?
Our common response is, "Yes We Can!"
Experience the YES commitment at Palace Florists. "If it can be done, Palace Florists can do it!" Every Palace Florists employee is empowered to make decisions to suit your needs. Accommodating special requests is our specialty.
YES WE CAN is a commitment to our dedication to accommodate your every request. Palace Florists and its employees will do their very best to accommodate all reasonable requests from customers. Under the terms of this program, Palace Florists cannot be held legally liable under any circumstances. Palace Florists reserves the right to discontinue their program or deny service to anyone or anytime without notice.